Cutting the trunk hinges
Yes, you read it right, cutting the trunk hinges. The front of the '63~65 trunk lid curves up to blend in with the roof line below the rear window. Since reshaping the whole front of the trunk lid would be a major project, I decided to cut the brace that is welded to the wheel well on each side and pushed the front edge of the trunk lid down. Welding the brackets in place held the front edge down. The hacksaw is in the photo to show where they were cut. This procedure is a prerequisite for the the next step. Shaping the "dashboard" section between the hood and the trunk.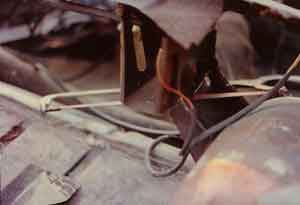 The hinges were cut and pushed down about 2 inches.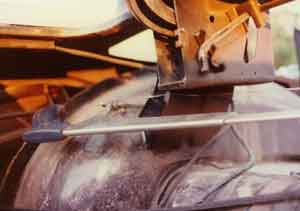 Next>
---